Have you thought about traveling on a strange ship, trying to overcome all the difficulties when crossing different lands alone? All these things appear in FAR: Lone Sails - the game makes me have a lonely feeling.
FAR: Lone Sails is a 2.5D adventure game published and developed by Mixtvision and Okomotive, the game was released on Xbox One and PlayStation 4. After that, the game continued to be released on Steam for PC and quickly received a lot of positive reviews.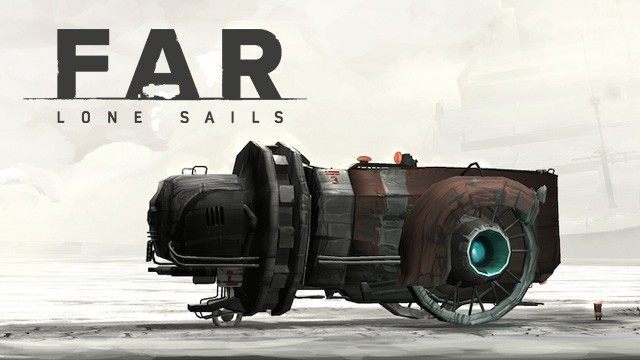 The game's attraction expresses through placing the player in a vehicle temporarily called "wheeled-ship" that moves so uniquely. The player, together with the ship, crosses dry oceans and a civilization that used to be so prosperous. Through this journey, players will find the answer to the question: "Is there anyone else in this ruined world?".
Quick Review
All players need to do is to control the fingers skillfully, helping the character operate the ship to move normally in harsh conditions.
Players also have to observe the situation, repairing and improving the ship if it is necessary. This is a temporary solution for players to deal with many dangers.
Sometimes, players have to jump to trigger switches and find more fuel resources. But we just spend most of our time messing around inside the ship to trigger the switches and pushing the levers to keep the boat moving.



Source: https://cdn.akamai.steamstatic.com/steam/apps/609320/extras/FAR_TrailerSelect_for_Gif_01.gif?t=1623927877
Everything you do in the game may be simple and repeated, maybe even a bit boring, but you will realize that it works with a lovely rhythm once you get used to it. The game gives players a fascinating adventure through exploring the world, dry ocean with many monuments, witnesses to the history of a ruined civilization.
Don't simply think that FAR: Lone Sails gameplay is a trip with a "wheeled-ship", rain and wind here are not zombies or monsters. Every few minutes of moving in the game, there will be a few obstacles for the player to overcome challenges, let the player know little by little what made the world become ruined.
With the sound of the wind, rain, and the ship's engine, gamers can enjoy ambient sounds wherever they are. The game also has some soothing soundtracks to help bring more comfort. Along with that, the beautiful graphics style is sure to knock down any gamer.



Source: https://cdn.akamai.steamstatic.com/steam/apps/609320/extras/FAR_TrailerSelect_for_Gif_02.gif?t=1623927877

In conclusion, FAR: Lone Sails is a unique short puzzle game that is a bit relaxing because of excellent graphics. It creates excitement for the whole experience. If you want to spend 2-4 hours playing something very lightweight, this is the game to play, but don't expect something this game isn't.

Personal score: 9.3/10.

System Requirements:
Minimum System:
DirectX: Version 11
Memory: 4 GB RAM
Operating System: Windows 7+ (64-bit OS required)
Processor: Intel Core 2 Quad Q6600 @ 2.4 GHz, AMD FX 8120 @ 3.1 GHz
Graphics: NVIDIA GTX 460 / 650m, AMD Radeon HD6570
Storage: 3 GB available space
Recommended System:
DirectX: Version 11
Memory: 8 GB RAM
Operating System : Windows 7+ (64-bit OS required)
Processor: Intel i7 920 @ 2.7 GHz, AMD Phenom II 945 @ 3.0 GHz
Graphics: NVIDIA GTX 680, AMD Radeon R9-280X
Storage: 3 GB available space